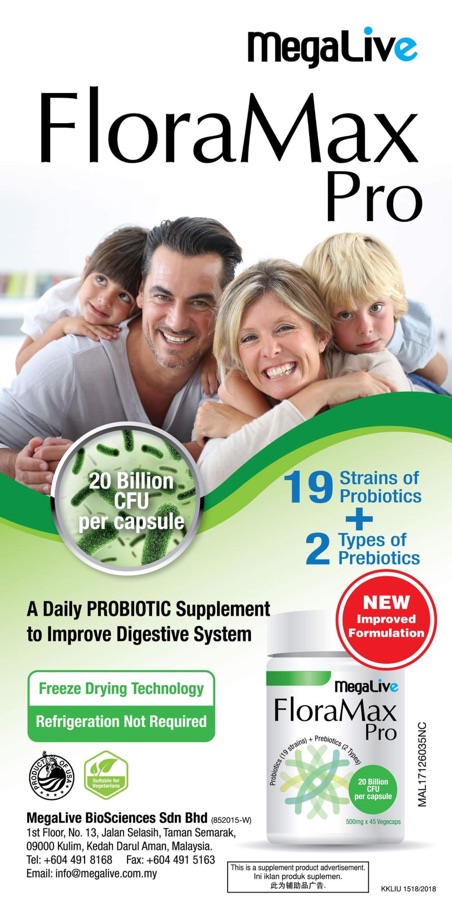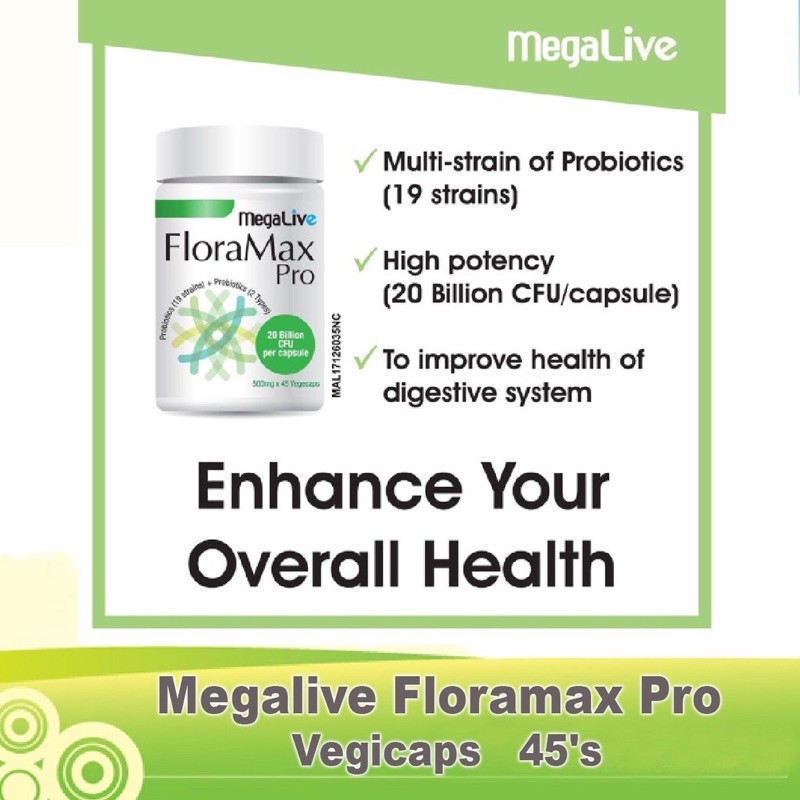 THE ROLE OF FLORAMAX
1. Helps to maintain and restore the delicate balance of both good and bad bacteria
2. Detoxifies and creates a healthy colon
3. Encourages healthy digestion and maximum nutrient-absorption
4. Makes the immune system super strong
5. Helps to normalize cholesterol
6. Helps to relieve constipation by improving intestinal mobility
7. Helps to lessen the effects of lactose intolerance
8. Helps in the manufacture of B vitamins
9. Helping with urinary tract infections
UNIQUENESS OF FLORAMAX Pro
1. Withstand strong acids (pH 1 to 2) for extended periods of time
2. Multiple strain friendly bacteria – 17 strains
3. High potency (20 billion CFU/cap)
4. Stability proven
5. Synbiotic (Prebiotic + Probiotic) – more effective way to improve the health of digestive system
Product of USA
WHY FloraMax Pro?
1. 20 Billions CFU/ cap with multiple strains of probiotic Different strains of probiotic found in FloraMax have different potential benefits towards the intestinal tract.
2. Probiotics + Prebiotics = More Effective!! Combination of probiotics and prebiotics provide synergistic and effective therapies.
3. Refrigeration not required
4. Rice fermentation – suitable for vegetarians.
Floramax Pro is ideal for everyone to maintain normal microflora, especially for individuals with the following conditions:
1. Digestive disorders
2. Colon cleansing
3. High cholesterol
4. Peptic ulcer
5. Diarrhea
6. Immune dysfunction
7. Yeast infection
8. Antibiotic therapy
9. Allergies
10. Lactose intolerance